Global Immersion EMBA Project – A Smart Police Vest that Calls for Backup When Officers Can't
Global Immersion — Americas MBA Student Venture Project Becomes Reality
Global Executive MBA – Americas '16 alumni Erin Raccah, Austin Martin and Arlie Haddix formed GPS-911, LLC along with Executive MBA spouse Jim Shepherd to save lives of police officers and first responders. Working with a group of Vanderbilt undergraduate engineering students, they created two functional prototypes for bullet proof vests that can sense whether an officer is shot or down and alert dispatchers to send backup.
The idea for this project came from Former NYPD Officer Shepherd's experience on 9/11, pulling fellow officers from the rubble. As part of the Executive MBA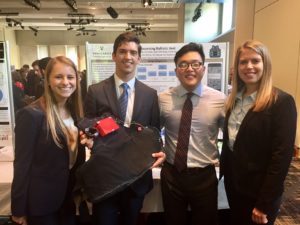 including the Global Immersion track, Vanderbilt students create a business plan and pitch the company to a panel of entrepreneurs and venture capitalists. GPS-911 was created in this course and classmates Raccah, Martin and Haddix decided to bring their product to market. April 24, their smart ballistics vests were presented at Vanderbilt University's annual Design Day. The Vanderbilt Biomedical Engineering Students who worked on project include Cassandra Wessely, Joseph Hodge, Linus Lee, Quinn Weinberg (pictured right), Kathryn Snyder, Matthew Rogers, Nicole Steiner, Alexander Boyer and Paul Hart.
You can find out more about GPS-911 and Design Day in The Tennessean article or Vanderbilt News feature.
For more information on the Vanderbilt Executive MBA Programs, please visit our website or set up a personal consultation to discuss if the program is right for you.