Latest Posts
From the Dean
It's been five years since I stepped up to lead the Owen School—a year as interim Dean and four in a full-time capacity. Despite the fact that we currently find ourselves at an economic low point, I can't help but reflect favorably on the past five years. It's been a tremendous period of personal and professional growth for me and of remarkable endeavors and accomplishment for the Owen School and those who comprise our community.
Features
Fortunately for Rob Hunter, MBA'91, clients weren't in the habit of visiting the original headquarters of his fledgling company, Alliance Communications. Had they walked into the office—actually, a trailer in a parking lot—in 1999, they might have noticed that Alliance, which manages sophisticated telecommunications for its clients, lacked a phone system capable even of transferring calls from one extension to another.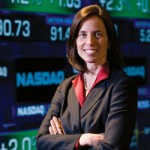 The 1995 conference sponsored by the Owen School's Financial Markets Research Center is one that Adena Testa Friedman will not soon forget. Just two years removed from graduation, she was back on campus watching Bill Christie, a favorite professor of hers, endure a searing critique from his former mentor Merton Miller, a Nobel laureate in economics. And as if that weren't awkward enough, Friedman was actually rooting against Christie.