Latin Fever Hits Owen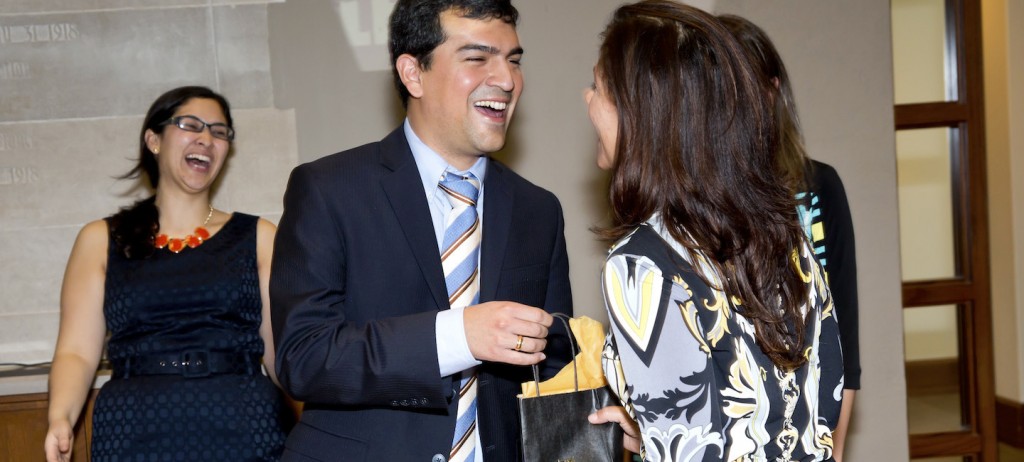 If you happened to be around Owen this spring, you would have been forgiven for thinking you'd just landed in some exotic Latin American locale.
In late March, accents of Portuguese, Spanish and English breezed through the lobby as teams from top MBA programs around the country vied for top honors in Vanderbilt's inaugural (and student-initiated) Latin Business Challenge.
A week later, executives from corporate neighbors like Bridgestone, Nissan, and LP assembled at Owen for breakfast to hear from one of Brazil's most successful investment bankers and former presidential chief economic advisor, Luis Paulo Rosenberg, about the changing economic landscape in Latin America's largest economy. Rosenberg was featured earlier this year in the New Yorker for leading Brazil's Corinthians soccer club to a $1 billion-plus valuation, so it was not surprising that the breakfast conversation also touched on the upcoming World Cup in Rio de Janeiro.
Meanwhile, that same afternoon, members of the 40-student cohort from the Americas MBA for Executives program were trickling into town for their April residency. The kick-off session on that Friday evening featured a panel on the World Cup and the Future of Brazil. More than 150 students and faculty from across Vanderbilt packed into the Bridge Building downtown to hear the panel and welcome the Americas MBA students with a Latin-themed mixer. As I told the audience at that event, Owen has Latin Fever!
Vanderbilt has long fostered ties to Latin America, particularly in Brazil. The school's relationship with the University of Sao Paulo stretches back decades. We also have one of the highest faculty concentrations of Brazil specialists of any U.S. school. And the Center for Latin American Studies oversees the Latin American Public Opinion Project (LAPOP), which is a bellwether for public opinion on a variety of topics in countries throughout Central and South America.
At Owen, we take a special interest in Latin America because it's an important market for our recruiting companies. Given the significant trade between North and South, many global firms manage the Americas under one organization. With nearly a billion consumers and over $20 trillion in GDP, the Americas as a whole represent a massive piece of the world economy.
That's why we organized our most recent Executive MBA program — the Americas MBA for Executives — around the Americas, working with partner schools in Brazil, Mexico, and Canada. Students in the program spend their first year in a traditional executive MBA program at their home schools. Then in their second year, they work as part of a cross-border team on projects that feed into week-long residencies at all four institutions throughout the Americas. The end result: students get to take a deep dive exploring the challenges and opportunities in the regions they're studying.
Closer to home, our MBA program regularly attracts top talent from countries throughout Latin America and we're consistently ranked as a top school (globally) by Latin America-focused publications such as America Economia and Expansion. Our current student government president is a fireball of energy and intelligence who originally hails from Colombia. And I was heartened to learn that once members of the Latin Business Association discovered there were no U.S.-based MBA case-competitions focused on the region, they went out and started one! Sponsors like Deloitte and AT&T were eager to pitch in and help.
Among the Owen faculty, finance professor Miguel Palacios has pioneered an investment tool designed to replace student debt. Much of the work he's done in this area has centered on projects and experiences in Latin American markets. Now, U.S. Sen. Marco Rubio has incorporated the idea into a student loan reform proposal circulating around Congress. Similarly, Owen professor Bart Victor has served as the driving force behind Project Pyramid — an MBA class and student organization focused on helping improve business models for organizations in the developing world. His work on this and other projects has led to significant time spent in places like Guatemala, Brazil and Chile.
So the next time someone passes you in the Owen lobby and says ¡hola or olà, or even just hello with a Latin twist, let it be a reminder of all the great things we're involved in with this exciting part of the world.