Why Owen for Sales Professionals? Meet Erin Tomlinson.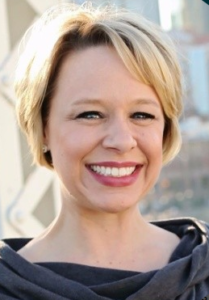 Name: Erin Tomlinson
Graduation Year: 2011
Track: Executive Edge
Company: Eventbrite
Title: Nashville Site GM and Global Head of Revenue Enablement
Erin Tomlinson is a 2011 alumnus of the Vanderbilt Executive MBA program. After spending a large portion of her career in Sales for the technology industry, Erin wanted to deepen her financial and business acumen to gain the confidence to drive initiatives cross-functionally. During and after the program, she began utilizing her new skills to lead higher profile projects which landed her a promotion and more responsibility for global initiatives.
What convinced you that you could or should the Vanderbilt Executive MBA program?
I started my career in Sales and spent 10 years climbing the ladder at Dell into a Sr. Management position. At that point in time, I remember having a particularly tough VP who challenged the Sales Leaders to start driving cross-departmental decisions.  For the first time in my career, I lacked confidence in my abilities to influence due to my need for business and financial acumen outside of sales.
What was the greatest hurdle you overcame to start or finish the program?
When I started the program, I was leading a team of about 100 sales reps and managers in a call center environment. It was tough to juggle working and going to school full-time with this level of responsibility and workload. After a year in the program, I had the confidence to pursue a new role as an individual contributor leading global projects – which couldn't have worked out better. I was actually able to implement more concepts from school than I would have in my prior role. In addition, I was able to work remotely for a much more manageable work/life balance.
What advice would you give to someone considering Vanderbilt's Executive MBA program?
Embrace every opportunity. Take advantage of the networking opportunities, both within your class and in the broader Vanderbilt network. In terms of balancing the school and professional work – find a rhythm that works for you. Some people study a little bit every day and others like to minimize studying during the work week and do marathon sessions on the weekend. Also, even though you will be assigned a C-Team group, I found it helpful to meet with folks outside of my C-Team for regular study sessions as well. Finally, be sure to leverage the career management services Vanderbilt offers.
How has your approach to business changed as a result of being part of the Executive MBA program?
The biggest change has been my confidence due to increased business and financial acumen. I am now more confident in my leadership skills, the decisions I am making, and my ability to have strategic conversations with executive-level leaders. In addition, I feel more equipped to interact and drive influence cross-functionally with departments like finance and marketing.
How has your career been enhanced as a result of your Vanderbilt Executive MBA Experience?
It's hard to quantify the impact that Vanderbilt has had on my career, but I would argue that it is significant. On a daily basis, I continue to leverage the concepts I learned in school with my teams as part of their development. The networking component has also had a big impact on my career. I make an effort to have lunch with Vanderbilt colleagues on a quarterly basis and attend as many networking events sponsored by the school as my schedule allows. I would not have the position I have now if it wasn't for the network I gained by participating in this program. Finally, I have continued to take on increased scope and responsibilities in my roles which has translated to salary growth.