Why Owen for Engineers? Meet Ed Stinnett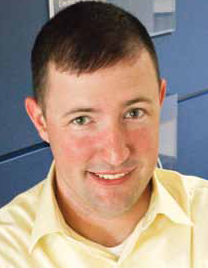 Name: Ed StinnettGraduation Year: 2014

Program: Executive MBA

Company: Tennessee Valley Authority

Title: Principal Engineer
What convinced you that you could or should do the Vanderbilt Executive MBA program?
As an engineer, you spend most of your career learning how to be…an engineer. As you move your way up the ladder, the only way you learn the business side of the operation is through whomever your predecessor is, no matter how good or bad they may be at running a business. I chose to get an MBA because I didn't want to leave my business education to chance. I wanted to learn business through multiple points of view, not just that of another engineer. Vanderbilt was the best education within a reasonable driving distance and the EMBA program was the only one that would allow me to get a real MBA while also being a full-time manager.What advice would you give to someone considering Vanderbilt's Executive MBA program?
You get out of it what you put into it. Don't put yourself in a position where all you're focused on is acing tests and finishing projects. Listen to what is being taught along the way. Your grade may not truly reflect the education that was available.

How has your approach to business changed as a result of being part of the Executive MBA program?
I understand how to make smart business decisions based upon things like NPV analysis and cost accounting. These are terms I never knew as an engineer yet they are great tools to have in order to answer questions like "Will it make money?"How has your career been enhanced as a result of your Vanderbilt Executive MBA experience?
I've been promoted once and am about to be promoted a second time in less than a year and a half after receiving my MBA. The MBA seems to always put me in front of the line for interviews when coupled with my engineering degree.
Why Owen Wednesday features a different Americas MBA for Executives or Executive MBA alum each week.  To find out more about the Vanderbilt Executive Programs, please visit our website.  If you are a Vanderbilt Executive MBA Program alum, please complete our Why AMBA or Why EMBA survey and we'll send you some Vanderbilt swag as a reward.