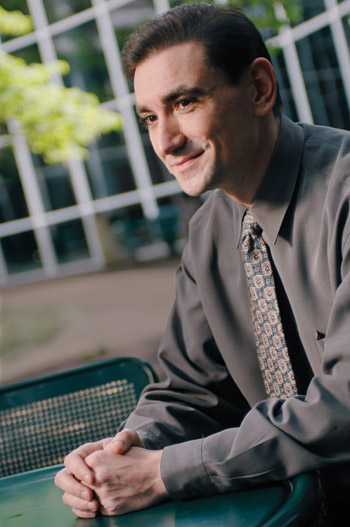 You probably should think twice before watching a movie with Mike Shor, Assistant Professor of Management. That is, unless you don't mind getting nudged every time an example of game theory pops up. Game theory is a method of using mathematical analysis to choose the best available strategy.
"I can't watch a movie without thinking through the incentives that somebody is creating for others. It drives my wife crazy," laughs Shor.
Take, for instance, The Princess Bride. Shor points to the scene in which the hero Westley and kidnapper Vizzini match wits over a poisoned glass of wine: "It's so much more profound than people realize. People think it's a cute little bit, when it's really the most excellent example of what Robert Aumann won the Nobel Prize for, which was clarifying this notion of common knowledge."
The grumblings of his wife aside, Shor's ability to discern game theoretic themes in the unlikeliest of places is a boon for others interested in the field. He's amassed an impressive collection of pop culture references and other educational resources at his Web site www.gametheory.net.
"I see game theory in way too many places, but I try to bring a lot of that to the classroom so that students can appreciate it as well."