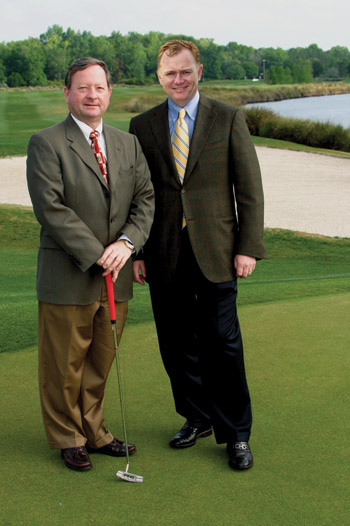 When the Scottish first pioneered the game of golf all those centuries ago, it's safe to say that they had no idea what a worldwide phenomenon it would become. Of course the sport has changed considerably since then; some of the modern rules and conventions would be unrecognizable to those ancient Scots. Yet for all the changes, golf today remains rooted in sportsmanship and camaraderie, and it's these ideals that help to explain its enduring popularity.
Certainly Rob Shults, MBA'96, can attest to this. As the President of Honours Golf, the leading golf course management company in the Southeastern United States, he's built a business around the idea that the game is as much about instilling core values and forging friendships as it is about competition. This is reflected not just in the company's name, which hearkens back to the origins of the sport with its British spelling. It's an inherent part of everything that Honours Golf does to create memorable experiences for its members and guests. From course conditioning to customer service, Shults and his team go the extra mile to uphold the long and noble tradition of the game.
Practice Swings
Though Shults didn't realize it at the time, the philosophy behind Honours Golf took shape when he was just a school kid growing up in Little Rock, Ark. His father taught him how to play golf at an early age, but it wasn't only the rules that he learned. The game brought Shults happiness on so many different levels that he came to view it as a life pursuit rather than a simple diversion.
"Golf was a game that I had talent in, and I just fell in love with being outdoors, spending time with good friends and working on a skill over and over," he says.
Shults' talent for golf led him to play competitively in high school and at the U.S. Military Academy at West Point, where he earned a B.S. in Management and Systems Engineering. After serving as an Officer in the U.S. Army for four years, he began looking for a way to transition from the military to the business world. The Owen School offered him just such an opportunity. While earning his MBA, he picked up basic business tools that continue to serve him well to this day.
"Owen gets you ready to handle a lot of different tasks simultaneously. It's good preparation for getting out there in the real world and trying to figure out what direction you're headed in life and how successful you're going to be," he says.
The Drive
Shults' direction in life didn't become entirely clear to him until a couple of years after Owen. While working for Wachovia Bank in Atlanta, he started to get the itch to do something that he'd always wanted to do—start his own company before he turned 30. The problem was, he didn't know what that company would be. At the time, golf wasn't on his radar screen, except as a hobby. "Frankly, I had never thought about making money or going to work in the golf business," he admits. But a chance meeting with one of the sport's premier developers changed all that.
That developer was Robert Barrett, a native of Augusta, Ga. who had been working in the golf industry since the '70s. Barrett had made a name for himself planning and managing golf operations for a number of well-regarded clubs across the country, including La Quinta Country Club in California, the site of several Skins games during the '90s.
Despite their different backgrounds, Shults and Barrett hit it off immediately. They found they shared not only similar personalities but also a similar appreciation for the game.
"He was a golf operations guy through and through, and I brought a financial perspective to the table. But we had the same vision for what we wanted to do," says Shults.
That vision—creating courses that provide something more than just an ordinary round of golf—took root when they decided to form Honours Golf together in 1998. From the very beginning Shults and Barrett found that their partnership was all the more effective because of their different, yet complementary, skill sets. Their roles within the company point to this. As CEO, Barrett handles golf course development and operations out of the Birmingham, Ala. office. Shults, meanwhile, heads up strategic direction and business development in Atlanta.
The Approach
Shults and Barrett's first business deal was with Highland Park Golf Course in Alabama—the oldest course in that state. Since then, the two have steadily added to their portfolio, which now includes a total of 12 courses located throughout Alabama, Florida, Georgia and Mississippi. Some of these properties were signed through golf course management contracts, as in the case of Highland Park, while others came about through development deals, in which Honours Golf assisted with the design and construction. Shults and Barrett have purchased several golf courses as well.
Whether through management, development or whole ownership, Honours Golf always takes the same disciplined approach. "Every one of our projects, by its nature, has its own unique brand," says Shults. "That takes a whole host of disciplines. It takes leadership, of course, and it takes putting a good team in place, whether it's the right team to build the golf course or the right team to run the golf course. And then it takes putting a culture of success in place with good systems and good training."
Minding the Hazards
Good teams and good systems are especially needed in today's business climate. The recent downturn in the economy poses a challenge to golf course owners since the sport is a discretionary expense for consumers. There's also the added pressure of rising fuel costs, which affect everything from the transportation of fertilizer products to the price of food served in their clubs. And to make matters even worse, the industry is already dealing with growing pains brought about by overexpansion during the late '90s and early '00s. Today fewer golf courses are being built, and many are being closed.
And yet Honours Golf has reason to be optimistic. As Shults points out, there are an estimated 25 million people in the United States who play the game. Of those, 8.5 million are considered to be core golfers. They spend about 80 percent of the money in the sport and are not likely to give it up, even during times of recession or inflation.
Shults also sees an opportunity for his company in golf's consolidating market. "Owners and financiers are realizing that golf course management companies are part of the necessary solution to get the golf industry back to health from a supply and demand standpoint, as well as from an operating standpoint. Existing golf courses that are undermanaged are our biggest opportunity," he explains.
The Bottom of the Cup
Perhaps most importantly, though, Shults knows that the golf industry as a whole is in good hands. There's a reason, he says, why you never hear of people being forced into his line of work by their fathers: It just doesn't happen. "People are in the business because they want to be in it," he says. "So everybody is passionate. It's an industry that is competitive, but for the most part everyone takes the attitude of 'Let's grow this game together.'"
Serving as President of Honours Golf may be a job, but to hear Shults talk, you might just think otherwise. Every day at the office brings challenges, for sure, but there are plenty of rewards, too. Shults has found great satisfaction in sharing his goals and principles with like-minded people, such as Rob Barrett and others on his team, and in the process, he's made friendships and memories that will last a lifetime.
As Shults puts it, "At the end of the day, pursue something you love. Because if you're doing something you love, you'll never feel like you had to work a day in your life."