Our Progress
Vanderbilt breaks ground on expansion of Management Hall
04/08/21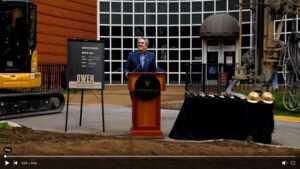 The Vanderbilt Owen Graduate School of Management officially broke ground on the renovation and expansion of Management Hall. The April 8 ceremony included Vanderbilt's Chancellor, key donors and project team members. The estimated $55 million project will extend the business school's space by 50 percent, encompassing a total of 48,000 square feet. A prominent group of Vanderbilt University alumni and supporters (Owen Century Partners) committed more than $20 million to the project, exceeding Owen's initial fundraising goal. The expanded building will include areas to better accommodate the wider Vanderbilt and Nashville business communities. Details and virtual tours of the completed building renovation are available by clicking this link.
Owen Sustains
03/15/21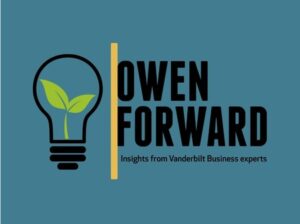 Organizations are increasingly faced with new risks and opportunities posed by complex social challenges ranging from climate change to human rights, diversity, privacy, social justice, and economic development. To address these issues, Owen launched a new MBA Emphasis on Sustainability & Social Impact and added programing like the spring break conference on The Future of Sustainability. The initiative supports Owen's educational mission focused on providing a world-class business education.
Owen Forward series offers new engagement opportunities
11/09/20
Owen Forward, a new series launched in 2020, provides a portfolio of virtual, in-person,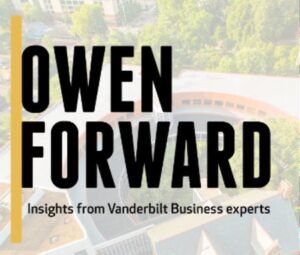 and on-demand engagement opportunities to inspire inquiry, close-knit collaboration, and discovery among the entire Owen and Vanderbilt community. The series creates a transformative experience that inspires Owen business leaders to connect and grow together. The initiative supports Owen's strategy to support alumni and foster a diverse, close-knit and collaborative community.
Owen launches CARE
07/23/20
CARE (Communicate, Acknowledge, Respect, Educate) a website and newsletter that reflects Owen's commitment to fostering a safe, healthy, and well-informed community. It is a resource for faculty, staff, and students to enhance well-being, comba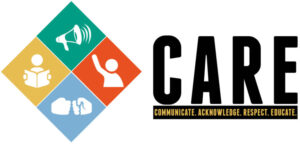 t systemic racism and pursue equity, diversity, and inclusion at Owen. Finally, CARE is a reminder of the work that needs to be done now and in the years ahead to make meaningful progress toward an equitable and just community. The initiative supports Owen's strategy to foster a diverse, close-knit and collaborative community.
Owen School supporters commit more than $13 million toward Management Hall renovation and expansion
06/23/20
The Owen School announced an ambitious $55 million building renovation and expansion project that will include a total of 48,000 square feet, extending the size of Management Hall by 50 percen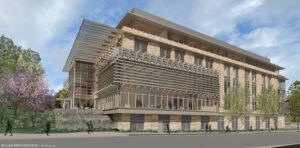 t to better accommodate the wider Vanderbilt and Nashville business communities.  A group of prominent Vanderbilt University alumni and supporters know as the "Owen Century Partners" have committed more than $13 million towards the project. The initiative supports the growth of Owen's portfolio strategy and create world-class facilities that support its personal scale approach.


Owen invests in remote learning enablement
04/14/20
Driven to provide world-class education during COVID-19, Owen makes significant technology and learning investments. Watch this video to learn about the on-line transition.
Owen launches Board Fellows Program

02/06/20
The Turner Family Center for Social Ventures and 100% Owen teamed to launch Owen's Board Fellows Program that places students on the boards of local non-profit organizations for a year. This experience gives students the opportunity to engage meaningfully with the community and strengthen their leadership skills. Many of the partner organizations have a strong emphasis on serving underrepresented populations.
Owen bridges the gap on military support
11/11/19
Through significant funding for new military scholarships including the Cracker Barrel Foundation, friends of Taylor Force, and the Swaney family, Vanderbilt Owen committed to offer unlimited support for Yellow Ribbon eligible veterans. This fall Owen also welcomed two of the first seven-member cohort of veterans in the Bass Military Scholars Program.  The military initiatives are part of Owen's strategy to enhance diversity and attract world-class students.
Owen celebrates 50 years of history, launches history website
10/18/19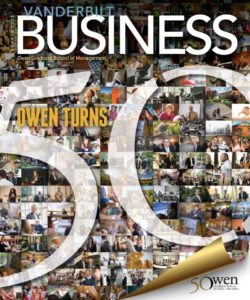 With alumni celebrations throughout the world, Owen celebrated 50 years of management education.  Alumni events started in Asia and swept the globe throughout 2019 including Hong Kong, Shanghai, Tokyo, San Francisco, Austin, Houston, Denver, Minneapolis, NYC, Nashville, Memphis, Atlanta, Boston, Louisville, Sao Paulo, Charlotte, and Seattle.  The School launched a new website that brings 50 years of history to life with alumni stories and school milestones.  The initiative supports Owen's strategy to enhance alumni development and support its personal-scale culture.
Vanderbilt's first cohort graduates from the Coding Boot Camp

07/09/19
Forty-three students graduated in the first cohort of the new Vanderbilt coding program. In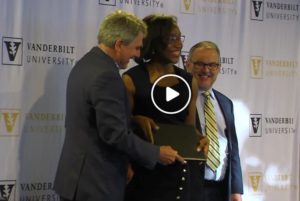 partnership with the School of Engineering, the Vanderbilt Boot Camp offers boot camps in coding, cybersecurity, and data analytics in both classroom and on-line settings. The program develops Nashville's technical workforce and creates opportunities for Owen students to learn coding. The initiative supports Owen's portfolio strategy.
Owen's Accelerator launches Global Immersion Program
06/24/19
Partnering with the Turner Family Center for Social Ventures and the Center for Latin American Studies, Accelerator® will launch a new Global Immersion Program that combines classroom instruction with hands-on projects led by regional business leaders. The December program will be based in the Guatemala city of Antigua, a UNESCO World Heritage Site and one of Central America's most beautiful and historic cities. The initiative supports the University's Academic Strategic Plan and Owen's portfolio strategy to build world-class undergraduate experiences.
Owen Establishes Diversity and Inclusion Advisory Board
04/25/19
This academic year, Owen established a Diversity and Inclusion Advisory Board comprised of faculty, staff, and students to develop awareness, engagement, and best practices in creating a culture of inclusion and belonging. The board, chaired by Professor Ranga Ramanujam, examines Owen's D&I culture, supports ongoing programing like Humans of Owen, and spearheads new initiatives like Owen Cosmopolitan Week, Owen Inc speaker series on diversity, and champions symbols of inclusion like a new set of more inclusive flags in the building.  The board also supports student life staff, like the newly created Director of Student Engagement and Inclusion, whose primary focus is implementing, supporting and promoting inclusive campus programming and student organizational activities.  The initiatives are part of Owen's strategy to enhance diversity.
Mary Jane and Charles Robb Swaney endow new scholarship
04/04/19
With a generous $1.75 million gift from the estate of Mary Jane, BA'66, MA'69, and Charles Robb Swaney—nephew of the school's namesake benefactors Lulu and Ralph "Peck" Owen, '28—the Owen school created a new scholarship that will support military veterans. The gift establishes the Richard Carter Owen Scholarship, named for Mr. Swaney's grandfather, father of Ralph Owen. The scholarship program is part of Owen's strategy to enhance diversity and attract world-class students.
Turner Family Foundation invests to expand the Center for Social Ventures

02/27/19

The Cal Turner Family Foundation generously committed $2 Million to expand Owen's Turner Family Center for Social Ventures. The new commitment is aimed at expanding the Center's social enterprise consulting services and fellows program. The initiative supports Owen's strategy to develop Centers that provide unique programming and leverage faculty impact.
Owen's Center for Entrepreneurship hosts first Vanderbilt Entrepreneurship Conference

11/09/18
The Center for Entrepreneurship at the Owen Graduate School of Management hosted its inaugural Vanderbilt Entrepreneurship Conference. The new annual conference is designed to bring together leaders from the Vanderbilt entrepreneurship community to network and share insights and experiences with attendees.  The initiative supports Owen's strategy to develop Centers that provide unique programming and enhance alumni development.
Owen partners with Engineering School and Trilogy Education to launch coding boot camp

09/20/18
Developed in partnership with Trilogy Education and the School of Engineering, the Vanderbilt Coding Boot Camp teaches the web front-end and back-end skills necessary to become a proficient full stack developer. The program covers the basics of coding, algorithms, and data structure, plus intensive training in JavaScript, Node.js, HTML, CSS, jQuery, Java and more. In addition to classroom instruction, students will spend 20 hours a week on outside projects, homework, and experiential learning activities designed to build the soft skills critical to today's workplace. The program creates opportunities for Owen students to learn coding and Owen ventures to find technical talent. The initiative supports Owen's portfolio strategy.
Bass Military Scholars Program boosts Owen's significant resources for veterans

09/12/18
Vanderbilt launches the Bass Military Scholars Program, dramatically increasing resources and programming available for Owen's veterans. The program is funded by a $25 million gift from the Lee and Ramona Bass Foundation, which will provide financial aid and programming support for military veterans at five of Vanderbilt's graduate schools: Owen, the Law School, Peabody College, the School of Medicine, and the School of Nursing.  The scholarship program supports Owen's strategy to enhance diversity and attract world-class students.
Owen's young professional programs grows to form new unit

08/01/18
Owen forms new Young Professional unit under Assistant Dean Cherrie Wilkerson. Nearly 120 students joined Owen's young professional programs this fall, including the school's one-year residential Masters programs: Master of Accountancy (MAcc), Master of Science in Finance (MSF), and Master of Marketing. The new structure supports Owen's portfolio strategy.
Leading executives participate in Fireside Chat Series
05/08/18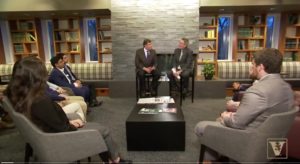 Executives including David Farr (CEO of Emerson), Cal Turner (former CEO of Dollar General), and Clint Freeland (CFO of Dynegy) headlined the inaugural Fireside Chat Series.  Vanderbilt Business' new Fireside Chat Series features distinguished executives and alumni who share stories about their career and chat with a small group of students by the fireplace at the Walker Management Library. The new program supports Owen's personal-scale strategy.
Owen launches Marketing Hub
03/19/18
The Vanderbilt Marketing Hub, an initiative led by Vanderbilt Business marketing faculty in conjunction with a student advisory board, has formally launched their digital headquarters.  The Hub is built on a three-pronged mission of education, engagement, and connection. Tailored to alumni, current students, and prospective students, it offers information on marketing-related programming, research, and career development that provides a holistic view of Owen's marketing ecosystem.
OSA Roasters opens C-suite Café in newly renovated space

01/11/18
The "C-Suite Café," powered by Nashville-based OSA Roasters, opened in a newly renovated space. The Café is the product of student-led effort to bring a high quality Café inside Owen, including both great coffee and food along with an inviting ambiance. OSA roasting has operations in the Edgehill neighborhood and supplies many restaurants and cafes in Nashville. A key goal of working with a local provider is the possibility of creating a much larger impact than just food and drink. OSA's partnership with the Turner Family Center for Social Ventures underscores the center's deeper connection with the coffee industry. Project Pyramid will be working on a project this spring with a coffee grower in Columbia from which OSA sources beans. The project supports Owen's strategy to create world-class facilities that support its personal scale approach.
Owen expands faculty with seven new full-time faculty members

09/20/17
Seven new faculty members joined Owen this fall. That represents one of the biggest recruiting years in Owen's history as we build upon the legacy of retiring faculty and execute our growth strategy. The faculty will teach across all Owen programs including the new the Masters of Marketing and undergraduate business minor. The group enhances faculty diversity and represents nearly all business areas. They bring important new expertise to Owen including venture & entrepreneurial finance, big data, marketing analytics, and diversity & inclusion.
Brownlee O. Currey Jr. endows new dean's faculty fellowships

09/11/17
Owen announced the creation of two Brownlee O. Currey Jr. Dean's Faculty Fellowships.  The new fellowships recognize young assistant professors whose research has a significant impact. Recipients hold the fellowship for a two-year term, which carries support for research activities.  The fellowships support Owen's strategy to enhance the impact of its world-class faculty.
Major library renovation complete

08/21/17
Walker Library opened its doors on August 21st after a $4.4M make-over. The renovation transformed the library from a book warehouse into a hub of discovery and collaboration. As a focal place for gatherings big and small, the library will take on a new role within the Owen community. Additionally, the expanded group meeting space and conference rooms will support growing needs for team projects and entrepreneurship.  The project supports Owen's strategy to create world-class facilities that support its personal scale approach.
Scholarships that enhance diversity

06/02/17
Owen received another gift to support diversity and is on-track to raise over a million dollars in new scholarships for women and underrepresented minorities. Most recently, Jonathan Stevens MBA '95 gave $100,000 to support women from STEM fields to study business. The scholarship initiative supports Owen's strategy to enhance diversity and attract world-class students. For more on recent diversity scholarships including the McKinnon and Conlee Scholarships, see the related Vanderbilt Business Magazine article.
Construction begins on the H. Laird Smith Courtyard
03/10/17
Through a $100,000 gift from the Henry Laird Smith Foundation, the H. Laird Smith Courtyard is receiving a significant renovation. The courtyard is a natural extension of Management Hall. It is visible from throughout the building,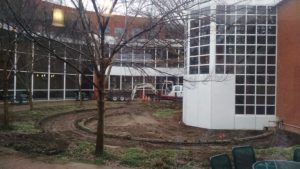 providing light and beauty to all three floors. It also naturally connects the historic Old Mechanical building with the modern Management Hall. Constructed in the early 1980s, the courtyard has served Owen well for more than 30 years. The renovation will give the courtyard a fresh look that will both enhance its beauty and functionality. Key enhancements include better access, more patio space, new furniture, and lighting to create a venue for everything from an informal place for students to meet, to a formal gathering space for lectures or receptions.
University approves new undergraduate business minor
01/19/17
In trans-institutional partnership, the Owen faculty with their counterparts in the undergraduate schools will launch a new undergraduate business program in the fall 2017. Vanderbilt undergraduates have long expressed interest in studying business and the new minor will help them launch exciting careers in management. The minor will integrate five required half-semester fundamental courses taught by Owen faculty with electives provided by the undergraduate schools. The initiative supports the University's Academic Strategic Plan and Owen's portfolio strategy.
Owen launches corporate partnership program
11/16/16
Owen announced the formation of a new corporate partnership program designed to broaden and deepen ties with MBA employers at the November meeting of its Board of Visitors. The initiative brings a new level of formality to the longstanding hiring relationships between the Owen School and top companies in a multitude of industries, expanding collaboration in areas like leadership-in-residence programs, student case competitions, speaker events, executive education and academic research. The initiative supports Owen's strategy to develop Centers that provide unique programming and leverage faculty impact.
New gift bolsters entrepreneurship
09/7/16
Carolyn and Wendell Jackson Long Jr., commit $1.5 million to foster the Center for Entrepreneurship at Vanderbilt University's Owen Graduate School of Management. The funds will be used to extend the programs developed through the Center, including immersion experiences that offer graduate business students summer or internship opportunities to research their business ideas; introducing an annual entrepreneurship conference; and creating programming in partnership with Vanderbilt's new Innovation Center as well as Nashville's growing entrepreneur community. The initiative supports Owen's strategy to develop Centers that provide unique programming and leverage faculty impact.
Corporate funding enables new health care markets center

05/25/16
Through a substantial lead gift made by an anonymous corporate donor, Owen launches the Center for Health Care Market Innovation. The center will be supported by a group corporations whose business are affected by changing demand for health care. It will conduct research on the demand for health care, how it is changing, and the capacity for new financing and delivery models to successfully meet changing consumer needs. The new center will provide insight for health care leaders and help prepare Owen students for the changes ahead.
Owen launches new innovative MBA courses to strengthen critical thinking

02/05/16
Critical thinking skills are important for any professional. Our research including surveys of alumni and recruiters showed just how important it is for MBA students. The ability to reason and articulate a multifaceted business argument bubbled to a top priority in our MBA curriculum revision. Focused on second-year students, Owen is piloting three new courses focused on multifaceted decision making, communication, and strategic context building. This includes two courses piloted last spring (Learning to Thrive, Prof Lehman; Advanced Management Speaking, Professor Pace) and a third course starting in March (Managerial Decision Making, Professor McCann).
Owen enhances career-focused immersive experiences

01/04/16
Treks have long been part of the Vanderbilt MBA experience. As part of the strategic review, recruiters and faculty identified such immersive experiences as a key opportunity for deeper learning. Starting in the fall, the successful Wall Street Trek was redesigned to boost student understanding of role and interaction between key players in the financial system. Led by Professor Craig Lewis, (and former chief economist of the SEC), students participated in class sessions (for which they received academic credit) before the trip – learning from practitioners who visited the class. Professor Lewis then traveled with the students to New York, adding daily debriefing sessions after firm visits. Likewise, Dean Johnson traveled in January with an expanded tech trek to help provide an overview of company visits, from long-time tech titans like Intel, Apple, and HP to more recent disrupters like Facebook, Twitter, and Airbnb.
New Master of Marketing program approved by the Vanderbilt Board of Trust

11/13/15
Completing a 9-month development process, the Vanderbilt Board of Trust approved a new master's program at the Owen School that will give students the modern marketing toolkit necessary to accelerate their careers. The new Vanderbilt Master of Marketing degree program is scheduled to begin classes in July 2016. The 10-month program aims to put graduates on a fast career path in companies of all sizes—from new start-ups to large established firms—and in a variety of industries, such as consumer packaged goods, technology and health care. The new program supports Owen's portfolio strategy.
Leadership Development Program 2.0

10/29/15
Owen's Leadership Development Program, under the direction of Executive Director Melinda Allen, has matured into a significant point of competitive advantage and an exemplar of our personal-scale approach.  Serving all of our degree programs, alumni, and EDI, Melinda's team has honed a portfolio of offerings that serve the specific needs of each population.  To build on this great success, Professor Tim Vogus will assume the new role Faculty Director of LDP.  Tim will be partnering with Melinda and the LDP team to conceive and develop new initiatives and content, further integrating Owen's outstanding academic courses with LDP activities.  Initial areas of focus include leadership content to support student club leaders, further refinement of MBA second-year offerings, and content for alumni at different stages of their careers.
Diverse new class is the strongest in Owen's history

08/10/15
The Owen School's new students are the personification of Vanderbilt's vision of what a world-class business program should be. The class is diverse in its global reach, professional experience, education and ethnicity. Students from 33 countries were represented in our incoming classes this year.  Each of the more than 300 students in the incoming classes has a fascinating personal story to tell. For more on the incoming students at the Owen School, read incoming class snapshots here.
White House convening a of Deans and Senior Administration officials for helping women succeed in business school

08/05/15
Vanderbilt Owen Graduate School of Management was one of 45 top business schools that visited the White House on Aug. 5 to announce that it was committing to a new set of best practices for helping women succeed in business school and throughout their careers.  Collaborating with other business schools to develop the set of best practices, a team from the Owen School, led by Associate Dean Nancy Hyer, prepared a document outlining Owen's strategy to advance women in business. Dean Eric Johnson attended the White House meeting and committed Vanderbilt to the new best practices document.
Executive MBA launches new curriculum

07/15/15
Executive MBA students of the class of 2017 were welcomed to the reconfigured program that leverages on-line components and a new second year-residency. Working on an expedited time-scale, the faculty developed the new curriculum that will allow EMBA students to complete the degree in 20 months, graduating in May rather than August. These innovations are also aligned with changes we have been implementing to make the program more attractive to women. The approach is working – the incoming class reached 37% women, which is the highest in history.
Owen faculty part of three winning teams for trans-institutional program (TIP) awards

06/22/15
Owen School collaborators were part of three trans-institutional projects selected for the initial set of awards from Vanderbilt's new Trans-Institutional Program (TIPs). These projects illustrate the broad range of inter-disciplinary scholarship at Owen and are part of our strategy to leverage the resources across Vanderbilt.
Owen "lights fire" under PR and social media efforts

06/15/15
Owen is attracting and developing world-class faculty, by providing an intellectual environment that attracts and facilitates scholarship. To ensure that we create awareness for our faculty work and expertise, Owen has hired a new Director, Business News and Communication who is working with Vanderbilt News Service to ramp up social media and public relations efforts. The results are widely visible in the media coverage that Owen faculty have earned in recent months.
Long-time faculty member and Financial Markets Research Center (FMRC) Director Bob Whaley's work on stock market volatility has been featured in the Wall Street Journal, New York Times and in multiple radio interviews; Fast Company featured Professor Kelly Haws work on learning from your mistakes; Professor Jessie Blocher's work on exchange traded funds was highlighted in the New York Times; and Professor Jessica Kennedy had her research on ethics and gender featured in articles in the Wall Street Journal, Forbes and Fast Company. Forbes featured Professor Jenny Escalas's work on storytelling; Wall Street Journal highlighted Professor Miguel Palacios' work on student loans; and CNN profiled Tim Vogus' insights on physician bedside manner and the Wall Street Journal covered his work on hospital rankings.
Vanderbilt, MLT announce partnership to accelerate careers of minorities

05/21/15
An acclaimed talent development program for high-potential minority MBA students is being brought to Vanderbilt University's Owen Graduate School of Management through a new partnership with Management Leadership for Tomorrow (MLT). MLT is a prominent nonprofit organization that provides talented black, Hispanic and Native American men and women with critical elements to succeed at each career stage and advance to senior leadership. MLT will help Owen attract more minority MBA candidates and equip these students with the skills and tools they need to succeed in business school and throughout their post MBA careers on up to senior leadership.
Cal Turner Family Foundation gift establishes center for social ventures at Owen

03/25/15
The Cal Turner Family Foundation committed nearly $1.2 million over five years to establish the Turner Family Center for Social Ventures at Vanderbilt University's Owen Graduate School of Management. Established with extensive input from student leaders and faculty members, the new center will extend the success of Project Pyramid to support enduring market-based solutions to alleviate poverty. In addition to furthering the international work of Project Pyramid, the new center is will become a hub to coordinate social venture activities across campus.
Owen launches partnership with Forte at Women in Business Symposium

02/6/15
Elissa Sangster, Executive Director of Forte, visited Owen to speak at the annual Women's Symposium and kick-off Owen's new partnership.  The Forté Foundation is dedicated to launching women into fulfilling careers. Partnering with sponsors, like Vanderbilt, Forté seeks to increase the number of women pursuing MBAs and offers many benefits and resources to women who are members of the Forté Fellows program.  In an interview with Dean Johnson, Ms. Sangster noted that the new partnership with Owen is important in encouraging women to consider careers in business.