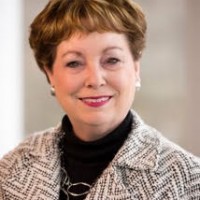 Donna has over 35 years of business experience in corporate leadership and consulting. As an executive coach and performance consultant, Donna utilizes her experience, expertise, and knowledge to bring effective solutions to individuals, teams, and organizations seeking to enhance leadership effectiveness, team engagement, and individual achievement. Her work with clients has brought about increased awareness, self-knowledge, and a focus on goals that support long-term growth. Donna has worked with clients in health care, financial services, higher education, telecommunications, manufacturing, government, and non-profit environments.
Donna has been a coach for the Owen program since the beginning, working with MBA and MMHC students to understand the results of their assessments and put new awareness of self into a framework for reaching professional goals.
In addition to individual coaching, Donna works with leaders in aligning what is important for the organization achieving success with how individuals can contribute most effectively. Her expertise extends to assessing culture, developing inclusion strategies, leadership development training, mentoring programs, and change management strategies.