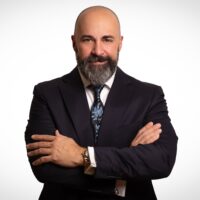 Sam Palazzolo brings a wealth of expertise to his client base, composed of Fortune 100, Mid-Cap, and Startup companies.  A hands-on C-suite leader, he brings a unique blend of expertise to the daily challenges of leadership/business under pressure. In this New Economy, leaders and their organizations desire a different perspective faster with results, and he establishes the launch-pad for exponential growth!
Sam acts as Managing Director at Tip of the Spear Ventures, a Private Equity/Venture Capital and Business Advisory Services firm he established in 2012. In addition to his work at Tip, he founded The Javelin Institute, a 501(c)(3) nonprofit providing Executive Education through Leadership Development and Executive Coaching programs. He also acts as an Adjunct Professor at the University of Nevada Las Vegas (UNLV) where he annually instructs an Executive Education course based on his fifth book ("Leading at the Tip of the Spear: The Leader" published 2018). Prior to this he led and successfully exited a Technology Startup, was a Regional Director for Toyota, a Senior Consultant at AON/Hewitt, and one of the first-200 team members involved with General Motors' SATURN Corporation.
Sam earned his Bachelor's Degree (BS) in Business Economics & Public Policy from Indiana University and a Master's in Business Administration (MBA) degree from Vanderbilt University (He has completed additional Graduate studies at the University of Texas and the University of Michigan). Mr. Palazzolo holds several professional certifications and sits on several Board of Directors for business organizations and professional associations.