Bernadette Cabrera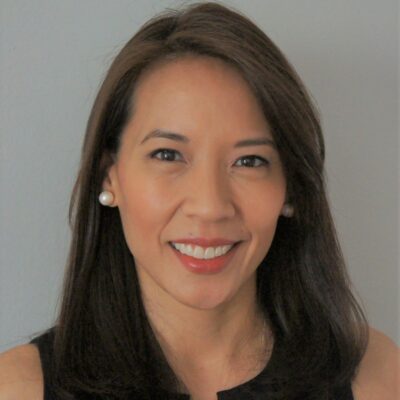 Professional Services, Finance, Healthcare, Life Sciences, Health systems, Retail, Telecommunications, Non-profit
Candor, Compassion, Courage
Certifications: Advanced Energy Healing Protocols, AIIR Team Effectiveness, Certified Public Accountant (CPA), Coaching Mindset Index, Hogan Leadership Forecast Series Assessment, Integral Coach, International Coach Federation
Hobbies: Dance, Energy healer, Meditation, Reading, Tennis, Traveling, Yoga
Client Summary
Clients range from C-Suite to mid-level managers in the following industries: Professional services, Financial institutions (banking and insurance), Life Sciences, Health systems, Retail, Telecommunications, Non-profit
Women and minority leaders
Team coaching
Education and Credentials
MBA, Vanderbilt University
BS, Accountancy, De La Salle University (Philippines)
Experience
Bernadette was leading the People and Organizational Change (Consulting) practice for the Financial Services Arm of a Big 4 prior to becoming a full – time coach.    This included managing sales, pipeline and delivery for consulting services, managing the personnel (talent acquisition and performance) and operations (productivity and profitability) for the group.   In addition, she has held the following positions:
Chief of Staff for the CEO of the Americas Consulting
Chief of Staff for the Auditor General at the World Bank Group
Global Investment Bank Lead for the Internal Audit Group for Corporate Processes and supervised internal audit reviews and reporting to management and the Board
Lead for Consulting Risk Practice for Asia Pacific for a global professional services firm
She has extensive experience in strategy, leadership alignment, change management, risk and regulatory management, process redesign and communications – and therefore very effective in identifying themes and issues, influencing, messaging and reporting.
Certifications
ACC, International Coaching Federation
Integral Coach, New Ventures West
Certified in Coaching Mindset Index
AIIR Team Effectiveness
Coaching Philosophy
Bernadette is committed to inspiring leaders to find their unique strength, talent and voice, enabling them to bring 'their whole selves' to their professional and personal lives.  In her coaching, she employs the principle of integration – the use of a person's major centers of intelligence: the mind (cognitive), heart (emotional intelligence) and body (somatic) – to achieve holistic alignment of the person in the pursuit of their professional goals.
As a coach, she is known to bring warmth, sincerity and directness that enables her to engage effectively and relate authentically with clients at all levels. Having a strategic perspective allows Bernadette to distill various inputs and get to the core of the client's issues. By applying her creativity and powerful questioning, she guides clients to different perspectives and actions, enhancing their leadership and personal skills.
Community Activities and Personal Interests
Reading, Meditation, Dance, Yoga, Travel, Tennis, Energy Healer