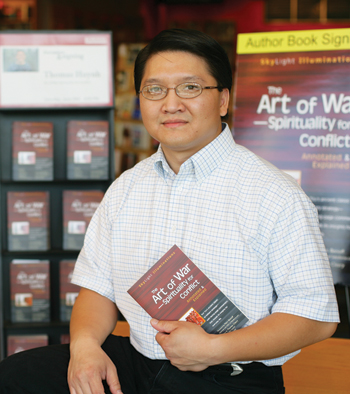 A 2,500-year-old text called The Art of War may strike some as an unlikely source of advice for today's business leaders, but Thomas Huynh, EMBA'04, believes that there are valuable lessons to be learned from Sun Tzu's masterpiece. Huynh has recently penned a new translation of the work, titled The Art of War: Spirituality for Conflict, with the hope that it will bring the Chinese general's message to a wider audience.
Although the ancient document sounds as though it might glorify war, Huynh says it's actually a treatise on peace, offering practical strategies for circumventing and diffusing conflict, whether on the battlefield, in the boardroom or at home. It is required reading for officers in the United States Marine Corps, as well as students at a number of B-schools, because of its innovative, still-relevant strategy for overcoming conflict. Marc Benioff, Chairman and CEO of Salesforce.com, who wrote the foreword to Huynh's book, uses its classic principles to manage his company in an often hostile, highly competitive technology industry.
The text itself is a lesson in economy: 13 short chapters comprise The Art of War, but each is full of important lessons that teach the reader how to avoid conflict and resolve inevitable hostile situations using self-control, intelligence, courage and benevolence. Huynh's annotations alongside the translation offer practical application of Sun Tzu's philosophy.
Huynh enjoys a career in finance as Group Controller for Skyline Steel in Georgia, but has been dedicated to the study of Sun Tzu's masterwork since he encountered the text as a teenager. In 1999 he launched Sonshi.com to provide Web space for authors, scholars and readers to gather and share information about Sun Tzu's timeless approach to conflict resolution.
Says Huynh, "Conflict is part of life, but it is our response to the disagreement that has the greatest effect on our inner peace and personal happiness."