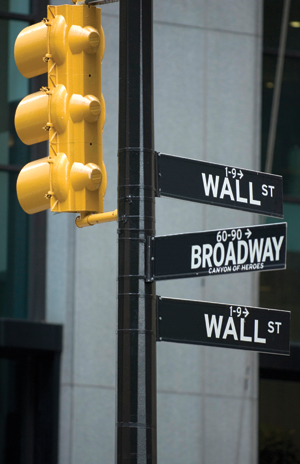 The musical never opened on Broadway, or anywhere else for that matter, and it probably never will. But in a way, the curtains haven't yet dropped on The Party Girl. Though forgotten by many, the musical continues to make its impact known at the Owen School—just not in a way that you might suspect.
The year was 1977, and Max Adler, a prominent New York businessman, was sitting in his apartment on Fifth Avenue listening to another pitch. As one of the producers of the Tony Award-winning hit Annie, he was often being asked to finance other would-be Broadway musicals, like the one being described to him at that moment. This time, however, something held his attention. It wasn't the script, which was about a U.S. senator and the mistress who runs his New York power base, or the fact that it was set to star veteran actor Robert Alda (Alan's father) and an up-and-coming Dixie Carter. What interested him most was the person in front of him—the producer who had optioned the script. His name was Charles Doraine, MMgt'72, and it was his personal story that eventually convinced Max Adler to invest his money. Not in The Party Girl, that is, but in Vanderbilt.
"He said, 'I don't like the script, but I'm interested in you because you're an entrepreneur,'" recalls Doraine. "I explained to him that I had graduated from Vanderbilt's Graduate School of Management and that we thought of ourselves as managers of change. I told him we stood out because we looked at the world differently. Other schools were interested in people who would stay in the box, but GSM was looking for people who were outside of it."
That "outside the box" line of thinking appealed to someone like Adler, whose path to success was anything but conventional. A bombardier in the U.S. Army Air Corps, he survived being shot down over the battlefields of Europe and imprisoned by the Nazis during World War II to return to civilian life in the late '40s. Seeing an opportunity in America's booming post-war economy, he started a mail-order business selling inexpensive gifts and gadgets. The catalogs were an immediate hit, and soon he expanded into other types of merchandise.
"He always sold these weird kinds of things, but one year he decided he would go into selling animals. He brought little burros across from Mexico, and they sold like fury and actually made the cover of Life magazine. It was amazing," says Mimi Adler, Max's widow.
While the burro-as-pet craze thankfully went away, Adler's mail-order business did anything but. By the early '60s the demand was so great for his merchandise that he decided to open his first retail store in New Jersey. Called Spencer Gifts, it caught on with customers and quickly drew the interest of Musical Corporation of America (MCA), a large music and television company based in California. Adler sold the business to MCA, which then took the brand nationwide. This windfall enabled Adler to dabble in other things that mattered to him, including Broadway shows like the one Charles Doraine had come to pitch.
But Adler was just as passionate about philanthropy, and when the conversation turned from The Party Girl to Vanderbilt GSM, he was eager to learn more about the school. Doraine agreed to put him in touch with Dean Samuel Richmond, thanked him for his time and went on his way, not realizing the importance of what had just occurred. It was only when Doraine got a phone call several years later that it dawned on him. A representative of the newly renamed Owen School was calling to invite him to a celebration honoring a donation given by Adler.
"Sometimes you can make a difference without even knowing it. I met Max just that one time, and look what happened," Doraine says.
As it turns out, Max Adler had struck up a friendship with Dean Richmond during those intervening years and had grown so fond of the Owen School that he'd promised a significant sum for the construction of Management Hall. But before he could make good on that promise, Adler died unexpectedly in 1979. The donation that Doraine received the call about was actually given by Mimi in her late husband's honor.
Mimi's commitment to Owen, however, didn't end there. In 1983 she donated an additional $25,000 to the school. The purpose of her gift was two-fold: First, she wanted the students to be able to learn how to manage money by making real-life investments, and second, she hoped the earnings from those investments would someday fund scholarships to the school. Mimi's gift was named the Max Adler Student Investment Fund, or MASIF for short.
The student club responsible for managing MASIF is today one of the most popular at Owen. In 2007-2008, there were over 50 members, all of whom played a hand in deciding which stocks the club picked. Modeled after an S&P mid-cap index, the fund is divided into different sectors, such as real estate, health care, energy, and technology. Second years serve as the heads of these sectors, while first years act as analysts. Getting the first years involved in this manner was one of the initiatives of former MASIF President Nicholas Zager, MBA'08. Having worked at OppenheimerFunds prior to enrolling at Owen, Zager wanted to expose the club members to something akin to the real-world experience he'd had.
"When you set things up in a team-oriented and professional environment, you see certain people shine. Those of them who grab onto the idea of MASIF can really hit the ground running after graduation," he says.
Zager's other initiative as MASIF President was to fulfill Mimi Adler's original vision by paying the first scholarship. In the 25 years since her donation, the fund had grown to well over $400,000 thanks to the students' stock picks. With Dean Jim Bradford's support and Mimi's blessing, the MASIF club decided to sell off approximately half of that amount and create an endowment for the Max Adler Scholarship. The club members also set about determining the criteria that would be used to award the scholarship. It was agreed that the recipient should demonstrate not only leadership abilities and academic excellence but also a commitment to the school and a career in finance. In the end, several candidates were presented to Dean Bradford, and Bill Lambert, MBA'08, was chosen as the first recipient.
"I think MASIF offers a learning opportunity for people of all different backgrounds. It's great to be able to pitch your thoughts on a specific stock to members, listen to their thought processes, and then measure those against your own. Not only does the fund create this atmosphere, but we then can act on these situations, and hopefully obtain market-beating returns for the fund in the process," says Lambert.
Today Lambert is realizing his dream of working in corporate finance at Deutsche Bank AG in New York. His story is similar to those of other MASIF club members who have embarked on Wall Street careers. They all gained valuable experience managing the money that Mimi Adler gave to the Owen School in her late husband's name. And whether they know it or not, they all owe a debt of gratitude to Charles Doraine and the musical that no one saw.