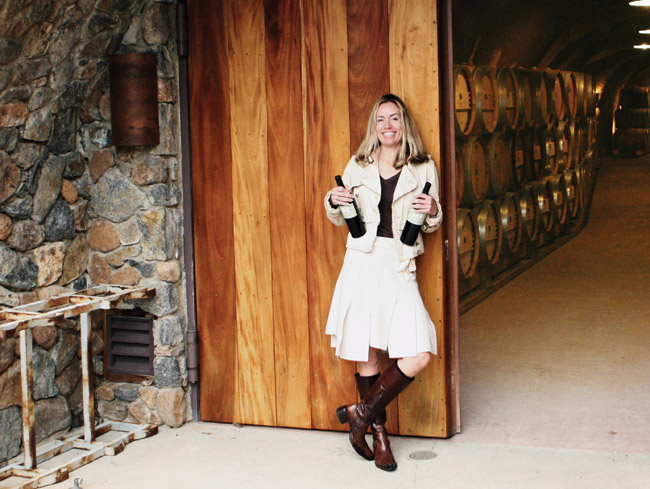 Every bottle of wine has a story to tell. It's a story written as much by Mother Nature—through the soil, climate and grapes themselves—as it is by the human hand that crafts the finished product. Kimberly Jackson, MBA'01, has learned this firsthand as President of JAX Vineyards, a boutique California winery she runs with her brother, Trent.
"When people decide to buy a bottle of wine, of course they want quality, but they also want to know how the wine is made. They want names and labels that they can identify with, and it's a very personal thing," she says.
Bringing the JAX story to a broader audience is Jackson's mission at the moment. So far she's succeeded in landing distribution deals for her wine across the nation. JAX also has gotten a boost from fortuitous product placement on HBO's hit show Entourage, as well as a recent appearance on Wine Spectator magazine's "Ten Wineries to Watch" list.
Ask Jackson the secret to JAX's success and she's quick to point to the land where the cabernet grapes are grown. The property in Calistoga is home to 40-year-old vines—some of the oldest in Napa Valley. Although the vines don't yield nearly as many grapes as younger ones do, their deep roots allow them to grow without irrigation. The resulting fruit is dense, thick-skinned and rich in flavor. "Our grapes work a little harder to survive," as Jackson puts it.
Jackson herself knows a thing or two about working hard to survive. Starting a business from scratch has required her to wear many different hats—from marketing to forecasting to invoicing and operations—but she credits Owen with giving her the framework and confidence to succeed.
And that's all the more reason to root for JAX Vineyards. It's an underdog story that many can identify with. A story just waiting to be uncorked.