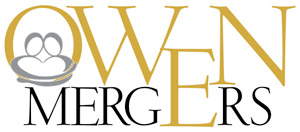 If we're to believe Sigmund Freud, then all that matters is love and work. Certainly everyone endeavors to succeed in both, but far too often one gets in the way of the other. That is, unless you're like the couples profiled below. Although decades apart, they all have something in common: They have struck a happy balance between their married lives and their careers, and they owe much of that happiness to the place that put them on the path to both—the Owen School.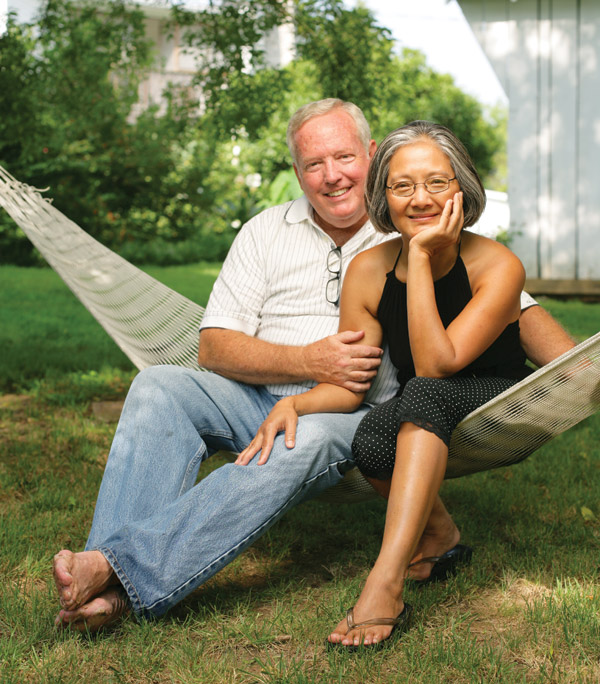 Minh-Triet Lethi Tucker, MMgt'72,
and Greg Tucker, BA'68, MMgt'71
Little did Greg Tucker know that an admissions brochure he designed would attract an honors student from Vietnam who would later become his wife. Greg was a member of the founding Vanderbilt GSM class, which met in the University Club basement. He remembers the day Minh-Triet's application arrived at the admissions office, where he worked. "I opened the letter and thought, 'I have to meet this young lady.'"
Greg was in Dean Igor Ansoff's office, which overlooked West End Avenue, the day Minh-Triet arrived on campus. "I looked out the window, and coming down the sidewalk was this beautiful creature," he says. Their initial introduction, however, didn't go as well as he'd planned. Minh-Triet explains that she had a difficult time understanding Greg's Southern accent.
After graduation Minh-Triet joined the MITRE Corp. in Washington, D.C., as a consultant. Greg continued at the school as its first Director of Admissions and Placement. In 1976 Greg enrolled in law school in Washington, and in 1977 they married in Constitution Gardens. During the Reagan administration, Minh-Triet was on the White House staff as Senior Policy Analyst for Science and Technology, while Greg practiced law with the Covington & Burling firm.
The couple dreamed of retiring to a farm, and it just so happened that one neighboring Greg's aunt's property outside Nashville became available at the same time his client HCA asked him to return to Middle Tennessee. It seemed "divinely planned," says Minh-Triet. Today they are proud parents of a daughter and son, Brigitte and Burney, who are 2006 and 2008 Vanderbilt graduates, respectively.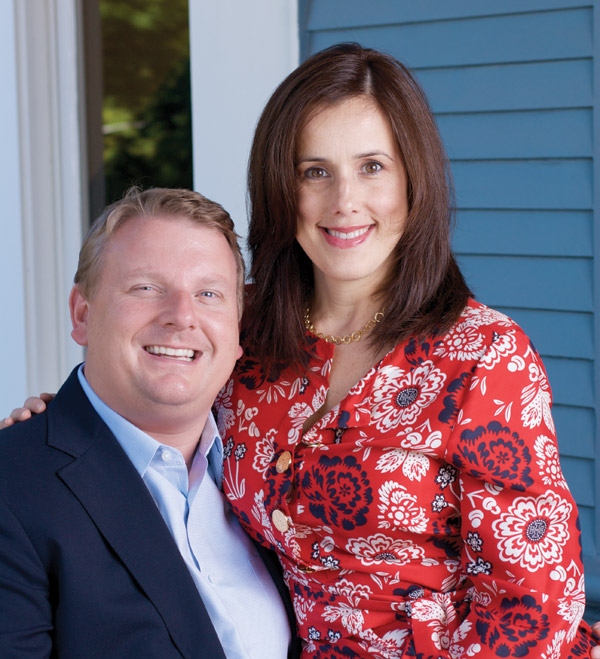 Maria Renz, MBA'96,
and Tom Barr, MBA'98
As a Project Manager at Hallmark, Maria Renz was puzzled by a seemingly overconfident Owen summer intern. "I was a bit taken aback … the other two interns contact-ed me when they came to town. They'd say, 'Oh yeah, Tom Barr is here,' and I'd think, 'Who the heck is Tom Barr?'"
Renz tracked Barr down, and they soon became friends. After graduation Tom joined GlaxoSmithKline in Pittsburgh. Renz was then with Kraft Foods in New York City, where GlaxoSmithKline's ad agency is located. They began dating, even after Renz moved to Seattle to work for Amazon. Tom began taking Friday night flights from Pittsburgh to Seattle and then red-eyes home on Sunday.
"After a year we thought, 'This is crazy. We have to figure out how to make this work,'" Renz says.
Before they even began exploring opportunities, a headhunter contacted Tom about coming to work for Starbucks Coffee Co. Tom is now the Vice President of North American Marketing for the coffee retailer, while Renz is a Vice President with Endless.com, Amazon's shoe and handbag Web site.
"Whenever I need business advice or want to talk to my best friend, I turn to Tom. We have a great network of friends through Owen," she says.
Tom serves on the Owen Alumni Board, and the couple participated in last winter's Marketing Camp. They also have two children—prospective students for the Owen classes of 2031 and 2032, no doubt.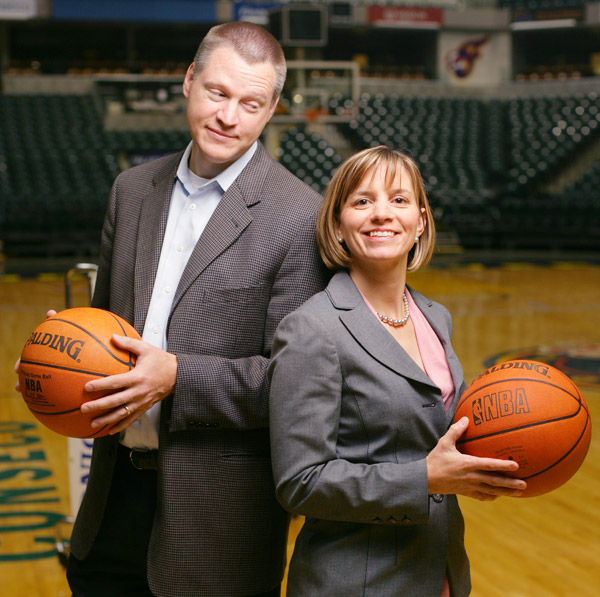 Donna Zavada Wilkinson, MBA'93,
and Jeff Wilkinson, MBA'92
Donna Wilkinson knew it was true love when Jeff agreed to help her cater an engagement party for Owen's Director of Corporate Relations, Peter Veruki. The commitment meant that Jeff, a diehard Duke fan, would miss the NCAA regional finals basketball game between the Blue Devils and Kentucky—a game that many pundits consider the best ever played among the college ranks. Donna, at the time, worked with Veruki in the Owen placement office.
"I used to go into the placement office every day ostensibly to find a job," laughs Jeff.
The two first met during an ethics breakout session Jeff helped facilitate during first-year orientation. He remarked about the prevalence of Duke graduates in the group, and Donna, a Duke alum herself, introduced herself afterwards. Jeff moved to Atlanta to work for Accenture after graduation, while Donna began her career with Sara Lee in Memphis, Tenn.
The couple timed their December 1995 wedding to coincide with the completion of her management training at Sara Lee and a transfer for both of them to Dallas.
The Wilkinsons both serve on the Owen Alumni Advisory Board and live in Indianapolis with their two young daughters. Donna is the Vice President of Human Resources with Pacers Sports & Entertainment, while Jeff is a Partner with Accenture. Says Donna, "We have a special place in our hearts for Owen. I loved my time there, and it was a bonus that I met my husband there."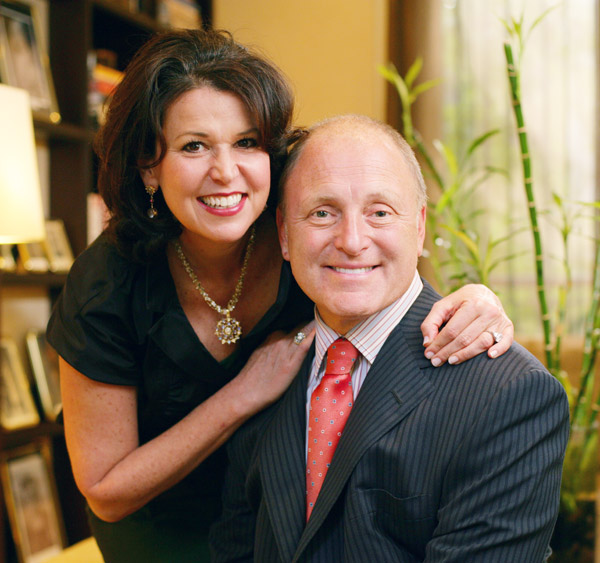 Vicki Simons Heyman, BA'79, MBA'80,
and Bruce Heyman, BA'79, MBA'80
When Vicki and Bruce Heyman paired up during a New Venture Creation course, they had no idea how it would change their lives. Taught by longtime Owen Professor Ed Bartee, the course not only introduced them to some of their closest friends but also sparked a romance that would last a lifetime.
"Our first date was Lamar Alexander's governor's ball," says Bruce, a Managing Director for Goldman Sachs, who is the firm's recruiting captain for Vanderbilt. The Heymans have remained very involved with the university, serving as co-chairs of their 25-year reunion in 2005. Vicki also has served on the Vanderbilt Alumni Board and on the Hillel Board for the Schulman Center for Jewish Life.
"Our participation has been exciting for us because we've been part of the upward trajectory of Owen. It's also come at a very exciting time because our kids have been going through the college process," she says.
Their youngest daughter, Caroline, is a high school senior, and middle daughter, Liza, is a Vanderbilt junior. Their oldest child, David, is 23 and an analyst in the foreign currency sales and derivatives department at JPMorgan, which, coincidentally, is the position Vicki held for four years after working in recruiting at Bankers Trust.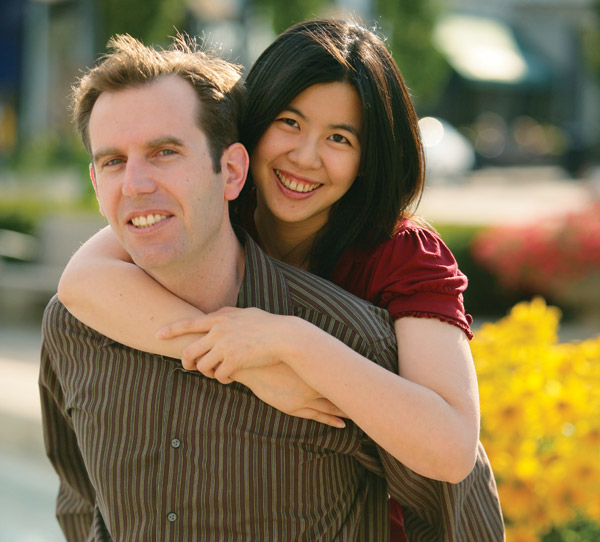 Elaine Wu, MBA'04,
and Jon Weindruch, BA'98, MBA'04
Elaine Wu and Jon Weindruch's first date, an informal meet-up at a coffee shop, never happened. "Elaine stood me up," jokes Jon. In reality, Elaine was a newly trans-planted international student stuck outside of downtown Nashville during a thunderstorm without a car or Jon's cell phone number.
The two first met during a retreat about ethics sponsored by Cal Turner, which brought together students from Owen, as well as the Divinity School, Vanderbilt Law School, and the School of Medicine. They started dating during their second year, and Jon, who founded the Web-site strategy consulting company Websults while at Owen, followed Elaine to North Carolina, where she worked for Hanes after graduation.
In May 2005, during a return visit to Nashville, Jon proposed to Elaine at Percy Warner Park. They were married six months later in Taipei, Taiwan, by a pastor who had pursued his Ph.D. at Vanderbilt Divinity School. Some of their Owen friends also traveled to the wedding.
Elaine is currently Director of Internet Marketing for Victoria's Secret, which operates the biggest retail apparel-accessory Web site in the United States. The couple lives in Columbus, Ohio, and Jon travels regularly to Nashville to consult with several clients, including the Owen School, which he has been assisting with Internet marketing.